Solutions for External Character Search
Are you registering lots of user defined external characters and commercial fonts of external characters in the private area?
Are you having trouble with searching the external character in the list?
If you have to search lots of external characters or manage lots of variant characters for names, "Super Kanji Search" will be one of the best solutions for you.
Who Need the Solutions for External Character Search ?
Those who want to use more kanji characters and correct character shapes on PC.
Those who want to make / manage lists including variant characters and kanji for names.
Those who want to make the multilingual and multi-kanji contents.
Those who want to manage the external characters efficiently.
We can Customize Super Kanji Search for Your Purposes
In order to search the external characters for names and places efficiently, we provide the customized Super Kanji Search for your purposes.
Major Examples for Use
Managing a list including lots of names of persons, a terminal for e-government
e-book, e-dictionary
Finding a book from stored books in a library
Correct republication or archive of historical materials and literary works
We customize "Super Kanji Search" for your business system or your fonts of external characters.
Features of the Solutions for External Character Search
Through the experiences of many projects such as "Chokanji (Super Kanji)" series which can handle more than 180,000 characters, Personal Media Corporation has been working on the solutions for multilingual and multi-kanji earnestly. We provide the best external character search for your environment.
By searching the external characters of your business system on "Super Kanji Search", you can raise your business efficiency.
By embedding the commercial external character font and vendors' external characters to "Super Kanji Search", you can search the desired character from the kanji and external characters efficiently.
By Copy & Paste manipulation, you can input the searched character into your business system.

We cover the external characters allocated in SJIS private area(F040 - F9FC) or Unicode private area(U+E000 - U+F8FF).
We can convert the external characters to the other character codes.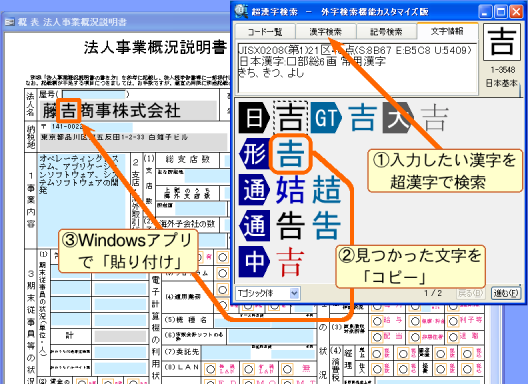 --Search variant character by Super Kanji Search and Paste the character on App--
(1)Search the kanji character you need.
(2)Copy the searched character.
(3)Paste the character on Windows app.
Customization Examples
Search by TRON Code
We identify the kanji characters stored in TRON Code with your external character font.
You can search the desired kanji from the search data of Super Kanji Search.
Adding Search Data for External Character Font
We embed the external character font of your business system and the search data to Super Kanji Search.
If the external character with the unique character shape is not included in TRON code, we make the original data for search.

Reading, Strokes, Parts, Character codes, etc.

We make the relation data between TRON code, External character and Font.

The original characters of the variant characters or the related external characters in variant shapes are listed.
Customized Development of Making External Character Font
We develop and make the external characters font for your business system.
We embed the font we made to Super Kanji Search to support your search and input of external characters.
Adoption Example of Super Kanji Search Customized Version
We identify the characters stored in Super Kanji Search with your external characters. By this identification, you will be able to search / input your external characters on Super Kanji Search.
Adding characters to Super Kanji Search is not included in the price.
The price does not include tax.
Examples of Quotation
Content
300 External Characters / 50 Licenses
2500 External Characters / 300 Licenses
Customization
Identification of your external characters, Making the data for search, Embedding your characters to Super Kanji Search
Number of Licenses
Super Kanji Search (External Characters Customized Version) x Above-mentioned Licenses
Rough Estimated Price
1,200,000yen (24,000yen per license)
2,700,000yen (9,000yen per license)
Delivery Date
About 2 or 3 months
About 3 or 4 months
Contact Information
Sales Division, Personal Media Corporation
Koizumi Bldg. 1-29-1 Nishigotanda, Shinagawa-ku, Tokyo, 141-0031 Japan
E-mail: sales@personal-media.co.jp
Phone: +81-3-5759-8305